Stuffed pancakes - a delicious dish of Russian cuisine
Pancakes stuffed with meat: the most common way to stuff pancakes
In our country it is very common such a dish as pancakes stuffed with meat. In other countries, other fillers are most often used as a filling for pancakes. Thin openwork pancake can be the basis for many fillers. Cottage cheese, berry, cheese, sausage and many other toppings are perfectly combined with pancakes. And we offer you a recipe - pancakes stuffed with meat stuffing. That is what they are usually made in Russia.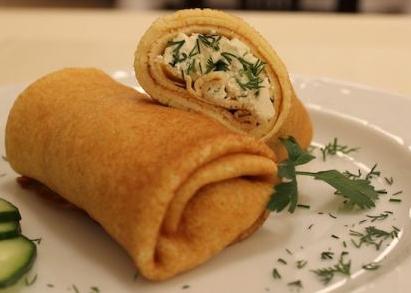 Ppancakes cooking
In order to cook stuffed pancakes, first make the base.
Required ingredients for cooking pancakes:
- 600 ml of milk (average fat content 2.5–3.2%);
- flour of the highest grade (2-3 glasses);
- eggs (3-4 pieces);
- vegetable oil (1 tbsp. l.);
- soda (1 tsp.);
- A little vinegar;
- a small amount of salt.
Cooking dough for pancakes
We break eggs.Whip them with a whisk in a saucepan. Add milk, salt and mix everything. Pour a little sifted flour, mixing thoroughly to minimize the formation of lumps. When about half the flour is already in the dough, add soda. We measure it with a teaspoon, pour it into a tablespoon and quench with vinegar. We must try to get all the soda wet from vinegar. Add this mixture to the dough. Stir and continue to add flour until the mass reaches a uniform consistency of sour cream. Must grind any remaining lumps. Last add one tablespoon of vegetable oil.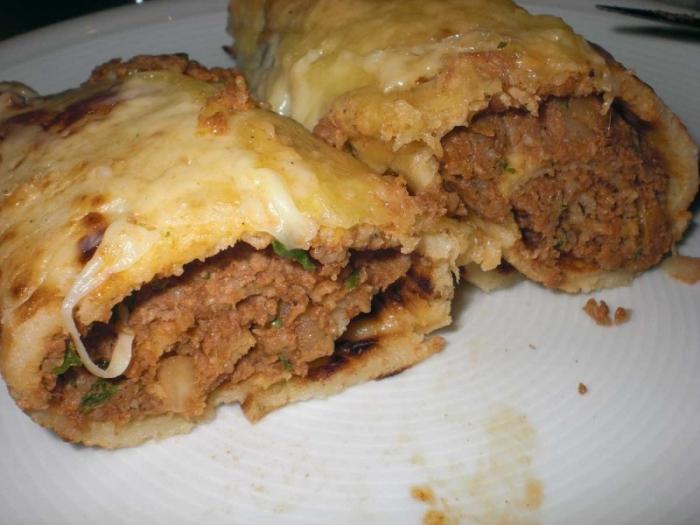 FArim pancakes
In order to fry this flour product, it is best to use a special pan with non-stick coating. It has low sides - it is convenient when it is necessary to turn the pancake off or remove it from the heat. Heat the pan well over low heat. Lubricate it with vegetable oil. Fat should not be much, otherwise the desired product will not work. If there is more oil than you need, then we pour out the excess. Ladle scoop the dough and slowly pour into the pan. When the edges of the pancake are browned - we turn it over to the other side with the help of a thin blade.To make the flour product easier to remove from the pan, you can first lift the edge with a spatula or knife. We put the finished pancakes on a flat big plate.
Cooking meat filling
Ingredients:
- 0.5 kg minced beef;
- 0.5 kg of minced pork;
- 1 large onion head;
- some vegetable oil;
- garlic (1-2 small cloves);
- salt;
- spices.
Making the stuffing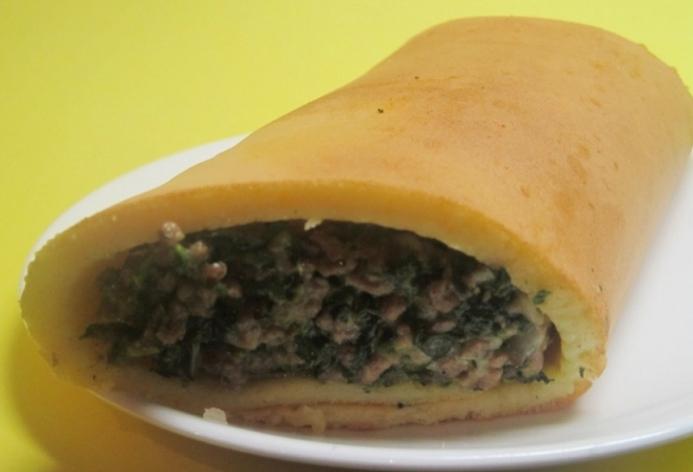 Next, to make stuffed pancakes, it is necessary to cook the meat stuffing. Mince it is necessary to fry using dishes without non-stick coating. Peel the onions, chop finely. Heat the pan, pour the oil. The amount of oil depends on how fatty the minced meat is. So, if the meat mixture is medium fat, it is enough to lubricate the pan with oil. Put chopped onion, fry until light golden color. Put the mince into the pan, kneading it with a fork. Salt, season with spices. Cover with lid so that the stuffing can steamed for some time. When the filling is already roasted, add chopped garlic. Cooking for about 5-7 minutes. Pancake filler ready. We cool it to a warm state and fill in the prepared pancakes.
How to wrap the stuffing
Stuffed pancakes work out if you carefully wrap the stuffing in them.For this you need a large flat plate. At the bottom, another pancake is laid out, closer to one of the edges superimposed cooked minced meat (in the amount of 1 tablespoon with a slide will be just right) and carefully wrapped. Stuffed pancakes laid out on a dish. They are ready to eat, but you can make them even tastier by frying in a frying pan.
Related news
Stuffed pancakes - a delicious dish of Russian cuisine image, picture, imagery