Simple patterns hares
Hand-sewn toy hares have been popular for many years. Especially in demand for adults and children who are fond of hand-made, are patterns of hare-tildes. Such hares do not look like the usual fur or plush toys, and have an interesting combination of natural fabrics of various colors.
Long-eared charm
In the collection of tild toys, there is a very large number of various handicrafts. All of them are similar to each other in that they have long thin arms and legs. Another characteristic difference of such handicrafts is the image of the faces of toys. As a rule, small bead eyes are sewn onto them and browned cheeks. Patterns of hares from this series have some differences among themselves, mainly it concerns the toy's ears.
All tilde hares are very beautiful, and there is no need to draw a parallel between long-eared crafts and models with ordinary ears. It is best to make several copies of these amazing toys by creating your own collection. Start by sewing a long-haired bunny.Pattern hare with long ears - below.
Before cutting the pieces of the pattern, you should make small seam allowances, since without them the parts may turn out to be too narrow.
Cute bunny
To sew a hare made of fabric with ordinary ears, you can use the pattern of the previous toy, just have to shorten this part. Or it is best to apply the original template. The beautiful hare-tilde, the pattern of which is shown below, has the usual ears sticking up.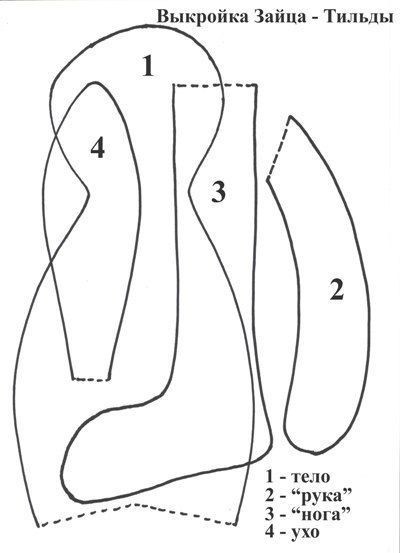 In order for the bunny to have beautiful erect ears, you can use some of the methods for forming them. The first method consists in adding the part in half (in length) and fixing it with a hot iron. Then the ears should be sewn in such a way that they are just below the crown. The second method involves the use of a frame inside the ear. For this you can use wire or plastic inserts. The third method is to densely fill the packing of these parts.
Selection of material and rules of sewing
In order to sew a tilde hare as it was created by the famous artist Tony Finnanger, you need to select only natural fabrics and suitable patterns (patterns of hares). When choosing a material, it is necessary to give preference to fabrics such as cotton, linen.
They should not be too bright, because the main concept of all such handicrafts is the lightness and elegance of a rag doll. It is best to take the fabric of muted shades that have a small pattern, for example, in the form of circles and lines. Sometimes it is very difficult to find material for body tailoring (flesh-colored). In this case, you can stain white with brewed tea, coffee or onion peel.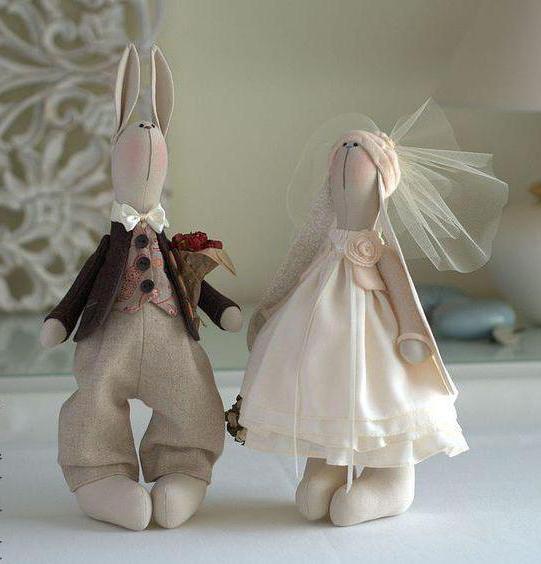 When stitching together the details of a future tilde hare, one should pay attention to the fact that as a result, there are no sharp corners anywhere. After all, all patterns of hares have rounded shapes and smooth transitions. When inverting the stitched parts, you need to use a long wooden stick, since without it it will be quite difficult to make it. As a stuffing for the toy, you should use a synthetic winterizer or holofiber. It is only necessary to sew the finished parts with gasket with a secret seam.
Also be aware of the design of the face. As already mentioned in the article, it should have a minimum of details. When making a face, it is enough to sew two closely spaced beads - these will be eyes (you can embroider French knots with threads).And also browned cheeks with rouge or watercolor paint. If desired, you can embroider the nose-triangle. As for clothes for cute animals, then it can be thought up independently or sew, copying models of the artist.
Related news
Simple patterns hares image, picture, imagery