Red fish tartlets and other tasty options
can be called a truly spectacular decoration of the festive table. This is an easy-to-prepare dish that does not require much time and effort. There are a variety of options for the execution of snacks, because this dish can be served both hot and cold. Because of its size, this type of baking, along with canapés, is used as a treat at buffets and receptions.
The origin of the dish, its types and forms
Some scientists suggest that the concept of "tartlet" originated in ancient Rome, while others believe that the origin is Italian or French. For baking the basics usually use sand or puff pastry. If you want the filling to be firmly fixed and not flowed out, choose the first option, and if lightness is needed, lightness, give preference to puff pastry. Baking is of different sizes and shapes, but more often it is a small portioned dish.Filling can be varied: vegetables, cheese products, minced meat, fruit. Also, you can often find a festive filling for tartlets with red fish.
Cold salad appetizers
As a cold appetizer, guests can offer a salad, portioned in tartlets. For such purposes, it is better to take the shortbread dough as a basis so that it does not soften. You can surprise your family with unusual festive treats by preparing a salad with tuna.
To do this, you need the following set of products:
Tartlets (their number must be selected according to the guest list).

Canned tuna (before cooking it is necessary to drain the liquid from the can) - 1 pc.

Boiled chicken egg - 2-3pcs.

Marinated or fresh cucumber - 2 pcs.

Processed cheese - 1 pc.

Lettuce and fresh dill (for decoration).

Thick sauce (mayonnaise or sour cream) - 3 tbsp. l

Chopped onions (to taste).
Cooking tips: knead tuna, add all other products to it and mix. Salad leaves gently lay in the foundation, top with a mixture, sprinkle with dill.
Options for appetizers to the New Year's table
Filling for tartlets with red fish hostess prefer in the New Year holidays,when you want to surprise guests and pamper yourself. Seafood will complement well the cottage cheese or cream cheese, cucumbers, etc.
Stuffing for tartlets with red fish:
Tartlets

Salmon or light-salted trout - 150 g.

Hard cheese - 100 g

Tomato - 2 pcs.

Mayonnaise.

Fresh dill or onion.

Boiled chicken egg - 2 pcs.

Leaves of lettuce or Chinese cabbage (for decoration).
Cooking tips: cut fish, eggs and tomatoes into cubes, grate cheese, add to the rest of the products. Season with mayonnaise ingredients and mix. Put lettuce leaves on the bottom of the base, stuffing on them, sprinkle with greens.
Stuffing for tartlets with red fish and caviar is very gentle, the recipe for such a snack is quite simple, and cooking does not require special skills. The following ingredients will be needed:
Puff pastry tartlets.

Red caviar - 100 g

Salted salmon - 100 g.

Cream cheese - 100 g

Butter - 20 g.

Dill greens.
Cooking tips: mix cream cheese and dill with butter, put a small layer on the bottom of the tartlets, sprinkle with the game. Then put some more cheese mixture. Form a slice of salmon wave and decorate the top.
Also popular is the filling for tartlets with red fish and melted cheese. Due to the compatibility of these products with each other, the taste will be gentle and pleasant.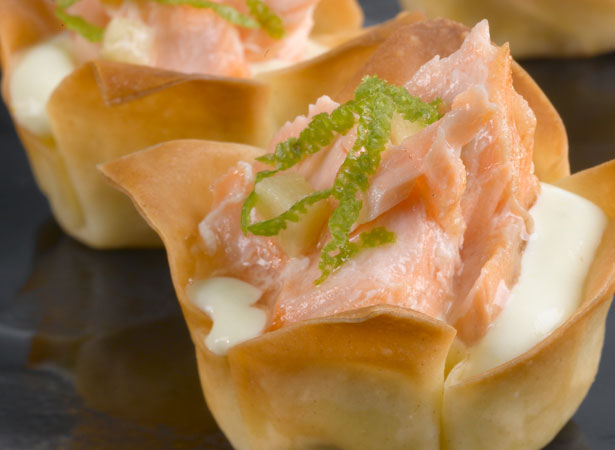 Preparing such a snack is quite simple. This requires the following products:
Tartlets

Smoked red fish - 150 g.

Processed cheese - 150 g.

Garlic - 2 cloves.

Sauce (mayonnaise or sour cream) - 1 tbsp. l

Boiled chicken eggs - 2 pcs.

Cucumber - 1 pc.
Cooking tips: Grate eggs and grated cheese, add chopped garlic and diced cucumber. The resulting salad is seasoned with a small amount of sauce. Stuffing for tartlets with red fish is ready! Spread the mixture into small portions, decorate with a slice of fish on top.
Each housewife has his own favorite recipe for tartlets with red fish, but sometimes there is a desire to change it a bit.
Healthy menu
The web contains many recipes from all sorts of tasty, but not always useful products. Nevertheless, there are simple, not inferior to taste options for vegetarian and diet snacks. Dishes of this kind are suitable for those who watch their figure, lead a healthy lifestyle, eat the right food or do not eat food of animal origin.
Hot stuffing:
Eggplant - 1 pc.

Zucchini - 1 pc.

Bulgarian pepper - 1 pc.

Tomato - 2 pcs.

Fresh champignons - 200 g.

Onions - 1 pc.

Cheese - 200 gr.

Salt and pepper to taste.
Cooking tips: Fry chopped onion in a pan. Then chop the rest of the vegetables and add to the onions. Tomatoes and peppers add last. Simmer the vegetable mixture until half cooked under the lid, add salt and pepper. Stuffing spread on tartlets and sprinkle with cheese. Bake in the oven for about 15 minutes. If desired, you can decorate the dish with fresh herbs.
Sweet stuffing
Desserts can also be served in tartlets. Adult sweet lovers and children will appreciate the look and taste of the dish. For this type of filling, fresh fruits and berries, chocolate, cream, etc. are suitable.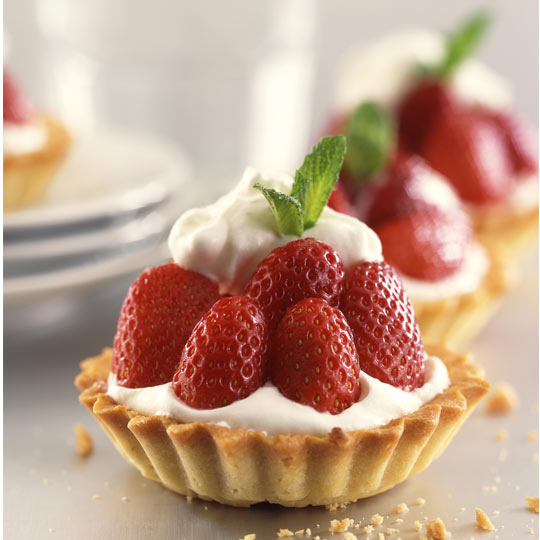 Fruit Heaven Snack Recipe:
Puff pastry tartlets.

Cheese "Mascarpone" - 250 gr.

Thick cream - 150 ml.

Kiwi - 150 g.

Strawberry - 150 g.

Banana - 150 g.

Icing sugar - 100 g

Fresh mint.
Cooking tips: whip cream and powder to a firm mass, add cheese. Cut the peeled fruit into slices and mix with cream. Then the resulting mass is spread on tartlets, if desired, decorate with mint.
Other snack options
Despite their small size, when properly filled, tartlets are a fairly satisfying dish. For the preparation of a hot version of the filling, cooks take all kinds of meat products: chicken, ham, pork or ground beef, etc. They are well complemented by cheese mayonnaise sauce, then the snack becomes more juicy. For acute or sour notes, you can use pickled cucumber. To add tenderness to the dish, you can use fried champignons or any other mushrooms to your taste.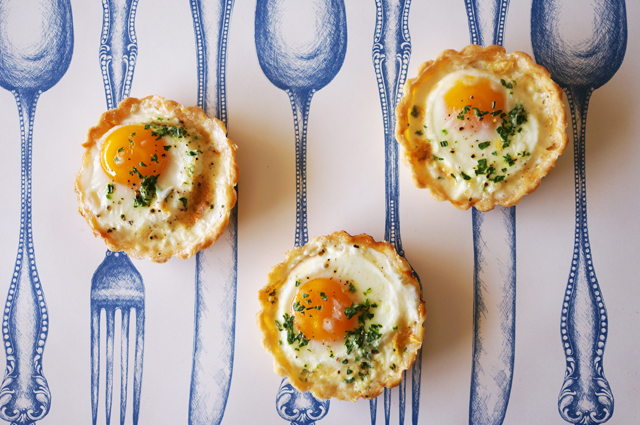 Tartlets can be used as portion plates for fruit salads or small portions of caviar, or as an idea for a breakfast design. Puff pastry is cut into small squares and placed in a metal baking dish for muffins, grated ham and cheese are put in a depression, sprinkled with herbs, the edges of the dough are smeared with egg yolk to make a golden crust. Set to bake in a preheated oven for a few minutes, bring to semi-ready. Then they take out, and in the middle of each portion they break an egg, add salt and return to the oven to cook until ready, then take out and decorate with chopped greens.
Related news
Red fish tartlets and other tasty options image, picture, imagery