Raspberry pie for a long life
Raspberry, Blackberry and Apple Pie
So baked village pies. Blackberry contrasts with raspberries in color, apples to taste, and rye flour in biscuit in style. Sheer eclectic, and exquisite, like lace underwear on fragrant hay. You can use only raspberries if you want to smooth out contrasts. Anyway, it will be delicious. Although your raspberry pie from the presence of blackberries and apples will benefit.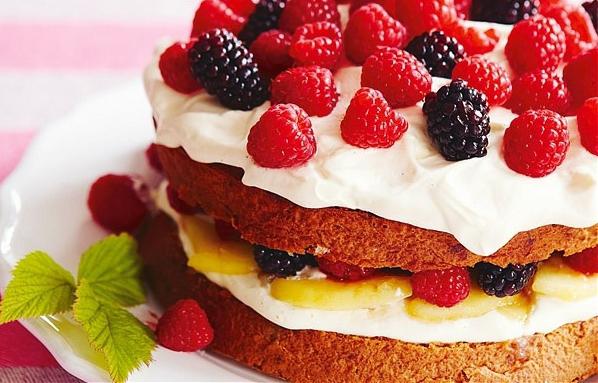 We will need
For sponge cake: 2-3 slices of rye bread for rusks, a tablespoon with the top of rye flour, two tablespoons with the top of wheat flour, four large eggs, a half cup of powdered sugar, four tablespoons of coarsely chopped hazelnuts, three tablespoons of melted and chilled butter , a glass of fresh raspberry.
For filling: two or three peeled and sliced ​​apple, one and a half tablespoons of brown sugar, two glasses of heavy cream for beating, four tablespoons of powdered sugar, half a cup of blackberry and one and a half glasses of raspberry.
How to make a raspberry tart
Grease a deep baking dish, sprinkle liberally with breadcrumbs. Heat the oven to 190-200 degrees. Crumble rye bread and fry it in a dry frying pan until a characteristic rusk smell appears. Let cool and dry a little more. Sift rye and wheat flour, mix with breadcrumbs.
Biscuit
Mix the butter with two tablespoons of powdered sugar, add four yolks, make the composition uniform, introduce flour with breadcrumbs, hazelnuts, raspberries. Beat with the remaining powdered sugar proteins in a strong foam and gently combine with the rest of the dough. Put in cooked form and bake for about half an hour, until the sponge cake starts to separate from the walls and slightly spring in the center when pressed. Leave it to cool for the first 10 minutes without removing it from the mold, then carefully remove and cool on a wire rack.
Filling
To apple slices, add a tablespoon of water and boil in a microwave for a minute and a half. Do not overdo it, the pieces should not lose integrity. Add brown sugar, mix and return for a minute or two to the microwave. Whip cream with vanilla and powdered sugar.
Assembly
Cut the raspberry pie horizontally either with a very sharp knife or with a thread (in the besieged Leningrad, bread was divided so that it was even and without crumbs: slightly cut the crust on one side, insert it in the cut and stretch it gently). Place the bottom half of the cake on a cooked dish, spread half of the whipped cream over the surface, place the apples and fresh raspberries and blackberries on them. Next, put the top cake, on it - the remnants of cream and the remnants of berries. If there are a lot of berries and they will fall on top of the plate - that's okay, even beautiful - support for a rustic style. Here is an eclectic.
Raspberry and White Chocolate Cake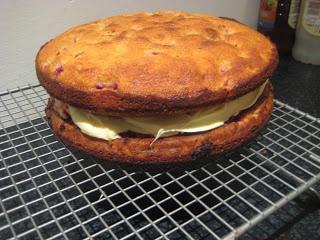 We will need
For the cake: two hundred grams of sweet cream butter, one hundred grams of white chocolate, a glass of powdered sugar, vanillin, four eggs, eight tablespoons of flour, one and a half cups of raspberries, fresh or frozen.
For cream: a glass of heavy whipping cream and two hundred grams of white chocolate.
For the sauce (quick jam): the remnants of raspberries (about another glass) and a half tablespoons of sugar.
How to do it
Preheat oven to 180 degrees. Form the cake for butter and sprinkle with flour, semolina or breadcrumbs.You can divide the dough into two cakes, then you need two forms to bake everything at the same time.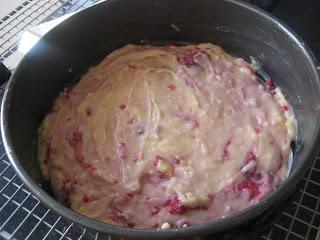 Korzh
Melt butter and chocolate in the microwave and let cool slightly. Mix sugar, vanillin, eggs with a mixer (1-2 minutes), add butter with chocolate, then flour. Raspberries interfere manually - with a spoon. Transfer to cooked form and bake. If one cake is forty minutes, if two is twenty-five minutes. Look at the crust, it should be crisp, light brown in color, and check with a match or toothpick whether it was baked inside. Allow to cool for 10-15 minutes, then remove from the mold onto the grid.
Cream
Meanwhile, melt the chocolate and half a cup of cream in the microwave, let cool and slightly thicken, that is, to the already cold state. Then left to mix this mixture with the rest of the cream.
Sauce
Mix the remaining raspberries with sugar and cook - 15 minutes after boiling with stirring on low heat.
Assembly
Cut the cake in half horizontally, sandwiched with cream. Serve each serving with a sauce.
Related news
Raspberry pie for a long life image, picture, imagery