Pork ribs in a slow cooker: cooking recipe
Pork ribs, cooked in a slow cooker, is a magical dish that can tame any man. Fried meat with a bright crust and an unforgettable aroma can immediately bring the spouse into a good mood, even when all other methods no longer work. In this article we will talk about how to create this wonderful dish.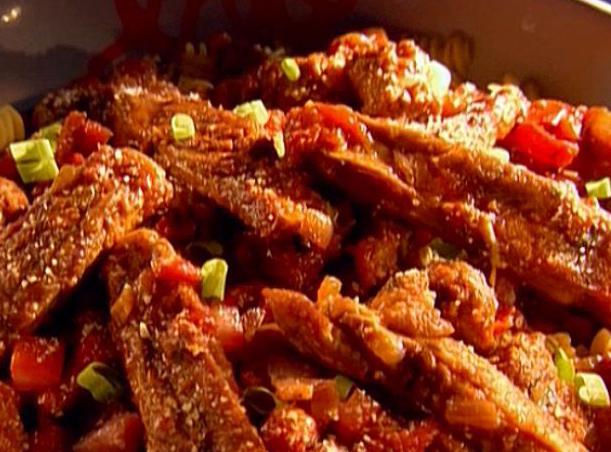 Pork ribs: ingredients
So how do you cook pork ribs in a slow cooker? The recipe of this dish is quite simple and does not require significant effort. In order to prepare the dish, you will need to stock up on the following products:
soy sauce - 5 tablespoons;
pork ribs - 700 grams;
honey or sugar - 1-2 teaspoons;
vegetable oil - 3 tablespoons;
pepper - to taste;
garlic - 2-3 cloves.
Pork ribs: cooking method
Now let's talk about how to prepare pork ribs in a slow cooker. You probably noticed that the ingredients include honey or sugar. Do not worry, sweet meat will not work.Sugar here plays the role of refined seasoning, which adds an elusive touch of savor to the dish.
So, first you need to wash and dry the ribs. It is better to buy them cut, so as not to spend on it extra time and effort.
Then in a deep bowl it is necessary to pour soy sauce and dissolve the honey or sugar in it.
After that, rub the garlic on a grater or skip it through a crush. Next, you need to mix it with the rest of the ingredients for the sauce and add vegetable oil to it.
Now you can bake pork ribs in a slow cooker. They should be put in the bowl of the device and pour freshly prepared sauce on top, and then mix well with it.
Then it is necessary to close the multicooker bowl and set it to baking mode for about forty minutes.
The dish is ready! Usually pork ribs, cooked in a slow cooker, are absorbed so quickly that consumers completely forget about the side dish. It is not necessary to do it. It is enough to cut some fresh vegetables with meat, lay it on a large platter and pour it over with the sauce remaining in the slow cooker.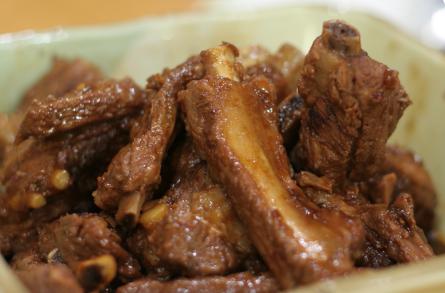 Pork ribs with vegetables
More useful are stewed pork ribs in a slow cooker. They do not have this tasty, but extremely harmful crust. However, the dish still turns out delicious, especially if you put in it a lot of different vegetables. In this case, the potatoes can be boiled separately, and the meat marinated in tomato sauce. But if the members of your family need to make a crust, you can first put the slow cooker on the frying mode, pour oil into its bowl and fry the ribs and onions in it until golden, and then switch to the stewing mode and cook the dish for another half hour. In this way, you can make fried pork ribs in a slow cooker. The recipe of cooking in another way will be described below.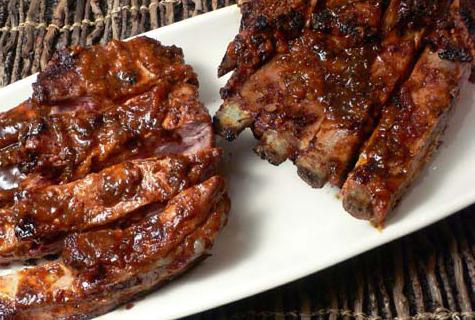 Pork ribs with vegetables: cooking method
Ingredients:
pork ribs - 800 grams;
potatoes - 1 kilogram;
onions - 2 heads;
carrots - 3 pieces;
garlic - 2-3 teeth;
pepper and salt to taste.
Cooking method:
To start, the ribs must be cut, slightly pepper and salt.
Then chop the carrots and onions.
Next, vegetables and meat should be folded into a slow cooker, set the device to quench mode and wait half an hour.
After that, add potatoes to the bowl and simmer for another thirty minutes.
After this dish can be served.
A bit of sauce
What only sauces are not used for roasting pork ribs! They are successfully cooked in tomato, soy, sour cream, sweet and sour sauce. Additional ingredients can be added to each of them. For example, in a sweet and sour sauce you can mix in a bit of grated ginger, and it will become even more piquant. You can add honey and grated garlic to the soybean, and the dish will acquire an original taste and a wonderful aroma. If desired, you can pour sesame, pepper, nutmeg, cloves and other fragrant spices into any sauce. The dish will only benefit from this. Therefore, do not be afraid to experiment and create unique culinary masterpieces at home. All your relatives and relatives will surely appreciate them.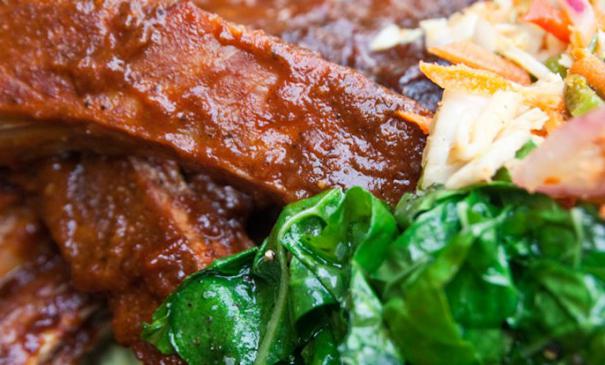 Now you know how to cook pork ribs in a slow cooker. The recipe for this dish is simple, and the result - an extraordinary taste and nutritional value. For every housewife this dish will be the perfect one. Bon Appetit!
Related news
Pork ribs in a slow cooker: cooking recipe image, picture, imagery