Papantonia Hotel Apartments (Cyprus, Protaras). Holidays in Cyprus
Holidays in Cyprus for many years is very popular among tourists from Russia and other CIS countries. This is not surprising, because the magnificent nature, magnificent beaches, the presence of historical attractions are perfectly complemented by a developed infrastructure, the presence of hotels for every taste and a variety of entertainment. If you decide to choose Cyprus as a place for your summer vacation, the Papantonia Hotel Apartments 4 * will be the right choice for affordable but comfortable accommodation. About what awaits the guests here, and let's talk further.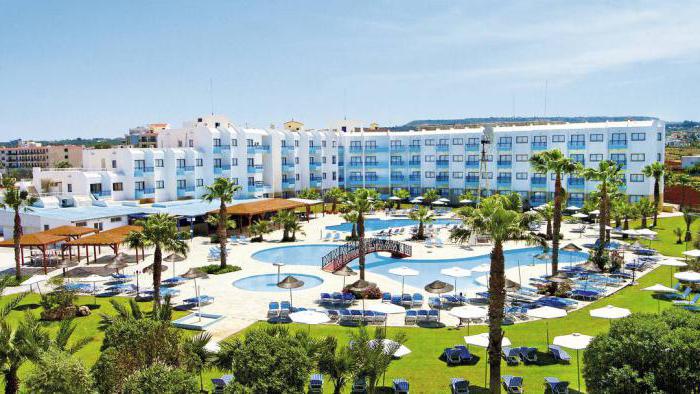 Location
Hotel Papantonia (Protaras, Cyprus) is located in the eastern part of the island. From the nearest airport, located in Larnaca, it is only 41 km away. Thus, after arrival you can reach the hotel in less than 1 hour. The hotel is located 2 kilometers from the center of Protaras. The distance to the bus stop is 900 meters, and to the nearest beach - three hundred meters.
Papantonia Hotel Apartments (Cyprus): description, photo
The hotel in question is a member of the Tsokkos Hotel. There are 112 comfortable rooms of the following categories: with one bed, two beds and a studio. All apartments are spacious, recently renovated. Each room has all the necessary furniture, a safe, TV (satellite channels, including in Russian), a minibar, a large balcony, and a kitchenette with a set of dishes. For an additional fee, you can use Wi-Fi. Rooms are cleaned every day, linen is changed once a week. The hotel has its own parking. So if you plan to rent a car, then there will be no parking problems. In addition, the hotel has a medical office, currency exchange, travel desk, laundry and dry cleaning. The reception here is open around the clock. In general, like almost all hotels in Cyprus, Papantonia is excellent for family holidays and for older tourists and young people.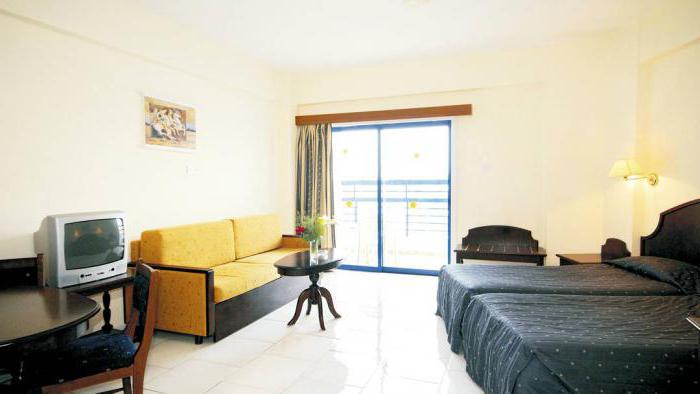 Food
The cost of living in this hotel includes two meals: breakfast and lunch or dinner. If you want to eat three times a day in the hotel restaurant, then you will have to pay an additional fee for the third meal. Meals are served in buffet style.Papantonia Aparthotel (Protaras, Cyprus) offers its guests a large selection of dishes from both international and local cuisine. For lunch and dinner you will find several types of meat, salads, side dishes, desserts and fresh fruit. During the day, you can enjoy your favorite drinks at the pool bar.
Outside the hotel there are plenty of cafes, restaurants and taverns. Here you can taste perfectly cooked local dishes.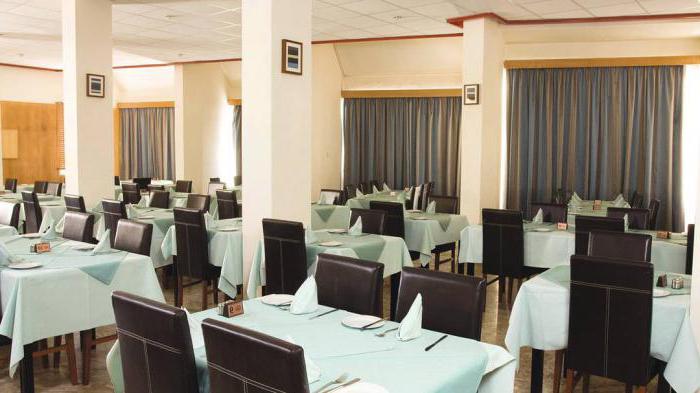 Entertainment
The four-star apart-hotel Papantonia is located on the second coastline. The nearest beach can be reached in just five minutes. There are sun beds and umbrellas, as well as several cafes. Beach equipment can be used for an additional fee.
On the territory of the hotel itself there are several small pools. Here guests can have a great time, if for some reason they do not want to go to the beach.
Seasoned tourists must recommend to all travelers staying in Cyprus, not limited to relaxing on the beach and visiting bars and restaurants. It is very interesting to make trips to local attractions. This can be done both with the help of travel agencies and by renting a car.The advantage of the first option is that the professional guide will tell you the history of each monument of history and answer all your questions. But if you prefer to make excursions on your own by renting a car, you can plan the route yourself. In this case, you will not depend on the rest of the group, which is very important for many travelers.
Reviews of Russian tourists
As it is important today for many of our compatriot when choosing a hotel to stay, it is important to know not only what travel agents say about him, but also the opinions of people who have already been here, we suggest you to get acquainted with the generalized reviews of travelers who had a chance to relax this summer at Papantonia Hotel Apartments. Immediately, we note that the majority of Russians, this hotel seemed quite decent. They do not regret their choice. But we will learn about everything in more detail.
The hotel itself and its location
Many of the guests of Papantonia Hotel Apartments note its successful location. So, from the airport here to go just 40 minutes. The beach is also close by. And you can walk to the city center in 20 minutes unhurried pace. Thus, the movement you will not take a lot of time.
As for the hotel itself, in the opinion of the majority of our compatriots, it is a bit old. Also in the rooms you will not find new modern furniture. However, no one considered this fact a disadvantage. After all, everything is offset by cleanliness and fresh repair. The apartments themselves are spacious, bright, with a large balcony. If someone had any breakdowns in the room, the hotel workers very quickly resolved all the issues. Cleaning the apartment, according to tourists, was carried out regularly, except Sunday, and fairly high quality. In this regard, no complaints were noted.
The only disadvantage many tourists considered paid Wi-Fi. However, this "sin" many hotels in Cyprus. But our compatriots advise not to spend money and not to use the Internet in a hotel. After all, all the surrounding cafes and beaches have their own wireless Internet. When you order something or pay for a lounger, they will bring you an invoice with a Wi-Fi password. So you can use it in the future.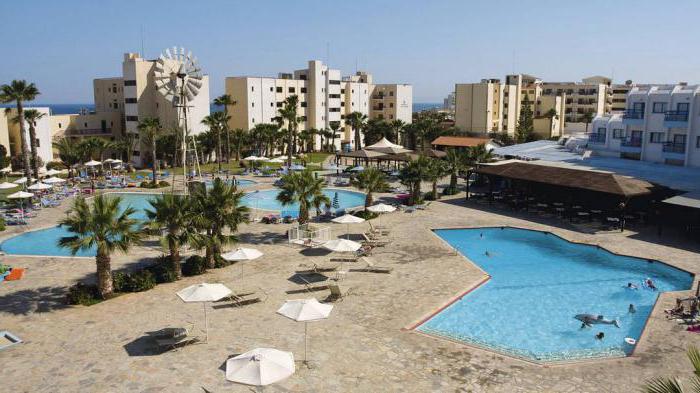 Nutrition Comments
Almost all the guests of the Papantonia Hotel Apartments note that the food here is very good. But the guests are not always satisfied with the food in the hotels.According to tourists, there is always a fairly large selection of dishes. So, here you will be offered several types of meat, salads, snacks, desserts. Always have fresh fruits and vegetables. According to reviews of family tourists, their children enjoyed eating sausages in dough, pizza and other similar foods.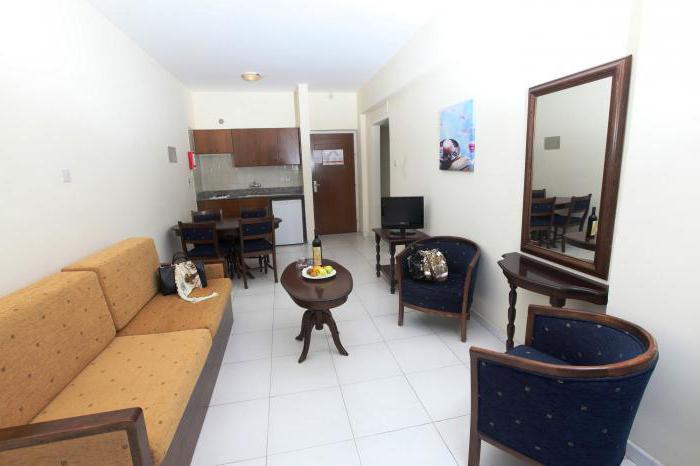 Opinion about entertainment
Papantonia Hotel Apartments, according to our compatriots, has no animation. True, the hotel still has a young man who entertains the youngest guests. Most tourists are quite satisfied with this state of affairs. Moreover, those who wish to enjoy the animation could easily go to the neighboring hotel "Marlita", belonging to the same network as Papantonia. On the territory of the hotel in question, you can also relax by the pools. As our compatriots say, they are small here, but there are several of them. The water is clean and of pleasant temperature.
Holidays in Cyprus, of course, is unthinkable without visiting the beaches. According to the guests of Papantonia Hotel Apartments, you can reach the coast in just a few minutes. Here you will find a small beach and several bays. Sunset in the water is shallow, with sand. However, further large stones may occur.If you walk a little to the side (about 20 minutes), you will find yourself on a large beach with a sufficient number of sun beds. Most of the guests of the hotel in question went here.
Staff reviews
A good word is remembered by our compatriots and hotel staff at Papantonia Hotel Apartments. So, they claim that the staff here is very friendly, welcoming and helpful. In addition, almost all employees speak Russian well. Therefore, there were no problems with communication among our compatriots here.
Related news
Papantonia Hotel Apartments (Cyprus, Protaras). Holidays in Cyprus image, picture, imagery