How to weave a shambala bracelet? "Shambala" - bracelet with your own hands
Handmade jewelry has been valued at all times. In-line production of products deprives them of the energy that each master invests in his works. Making bracelets interests many, especially - the bracelet "Shambala". After all, if you make it with your own hands, use materials that act positively on the body, you will get not just a decoration, but a real amulet. Since ancient times, this type of weaving was used by shamans and clairvoyants to protect people.
The popularity of "Shambhala"
In recent years, this type of bracelets has become very popular. Many people are interested in how to weave a Shambala bracelet? Not everyone is familiar with such handicrafts as macrame. But "Shambala" is a weaving of macrame, which is interspersed with beads. This is a very simple type of making jewelry, and most importantly - you can use different materials for it: beads, beads, natural stones, combine different colors and shades of cords, beads, dividers. This makes it possible to create shambala bracelets for different sets of clothes.
The Shambala bracelet will give the finished image and style to the costume. The created jewelry with your own hands is a real exclusive. They are woven from bright beads, often used interweaving of wooden parts and natural stones. Instead of a cord, strips of leather are used, especially when bracelets are made for men.
Everybody wears Shambhala: women, men, young people, children. It all depends on the design and material used. This is one of the jewelry that fits all, regardless of age.
Flat knot
In order to create a bracelet for yourself, you should master the weaving of several knots of macrame. To do this, a knot is tied on a vertical thread with another cord segment. It turned out three segments. Weaving will be made around the central thread - extreme.
The right leg rotates and is horizontally positioned on the central thread from the top. Left - on top of the right one starts down and under the central thread is inserted into the loop, which the right thread formed when turning. Tighten the knot, but not very much. Further, the left segment of the thread is rotated and is located horizontally above the central thread, thus forming a loop.The right segment over the left is wound under the central thread and is outputted through the formed loop. Pulling on both ends of the cords in different directions, the knot is slightly tightened.
So it turns out a flat knot. It is from these fragments and consists of "Shambala" - a bracelet, a photo of which can be seen below.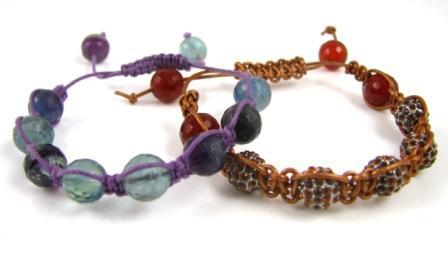 Tools and parts
They will help you while working on the product not to get confused and create beautiful smooth knots. Many tools will not be needed: scissors, a silk cord two meters long, nine beads (the diameter of the hole in the beads should be at least 2 mm), transparent nail polish, Moment glue. It should be correctly and consistently weave a bracelet "Shambala". The master class will help you do everything accurately and accurately.
The color of beads and silk cord is selected according to your taste. Of course, the combination should be perfect for the bracelet to look stylish. The ends of the cord are treated with nail polish, which is allowed to dry well. This is required so that the beads easily fit on the thread. A piece of cord is taken in 40 cm and 1 m. A clasp will be woven from a residual piece 60 cm long. Beads are taken as one color or different, but in the right range.
Step-by-step instruction
The manual provides a brief description of how to weave a Shambala bracelet. Accurate performance of all steps ensures an excellent result. To help many craftswomen use a wooden stand on which the main thread is fastened. But some cost and soft armrest of a chair or chair - it fastens the thread and weave a bracelet. So...
A thread 40 cm long is fixed vertically. A knot is tied with a long cord not far from the place of attachment. It turns out the central thread and two long, on both sides. One flat knot is knitted.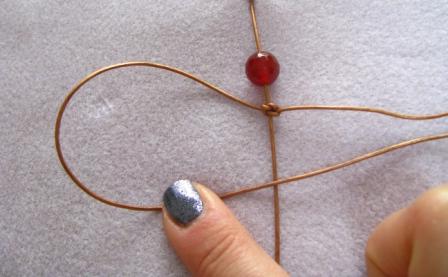 Then one bead is placed, and under it another flat little knot is made. To the weaving is not spinning, the knot should be done correctly. To do this, each element of the node should be alternated. If you always start tying from the same side, you get not a flat knot, but a spiral.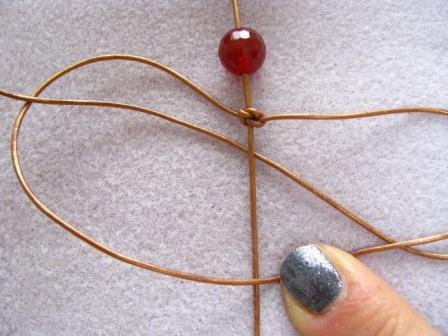 Thus, three beads of the same color are woven around. The next bead will be central. Often it differs from the previous elements: a larger or a different shade.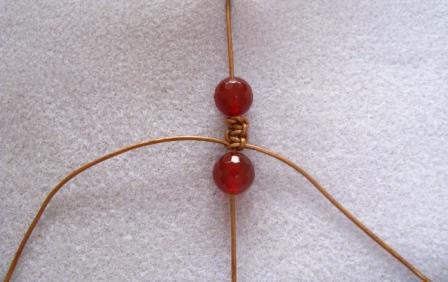 After tying the central bead, the weaving is repeated as before. Three more beads are added, and the final knot is made. The ends of the cord are cut.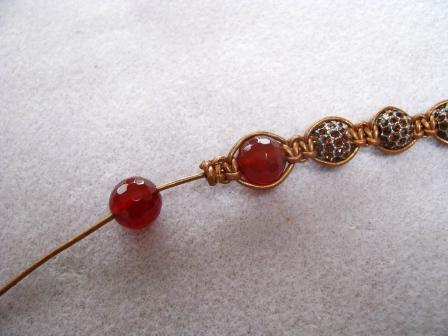 A silk cord is often used in weaving a Shambala bracelet, the ends of which are fixed either with glue or with a lighter. This is done so that the final node is not untied.
Bracelet Clasp
Now, when it became clear how to make a Shambala bracelet, it is necessary to move on to weaving a fastener. To do this, the remaining ends are combined with one another path overlay. The prepared 60 cm of the cord is used to weave the fastener: a knot is tied that secures the combined ends of the bracelet.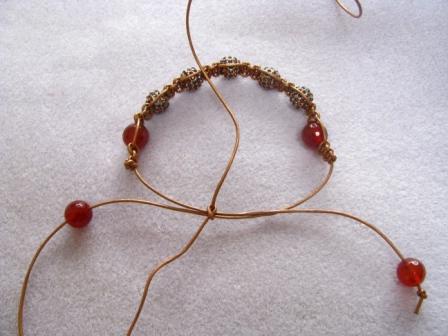 Next, weave already known flat knots, each time changing the direction of the beginning of the mating. The number of nodes may fluctuate: they make five or six. Tighten enough tightly so that you can change the volume of the bracelet.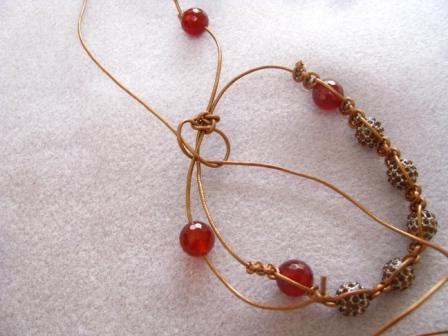 But not too hard - tight tightening can "lock" the bracelet. It is enough if he moves apart with little difficulty. Easy opening can lead to loss.
The final stage
There are many master classes on the Internet about how to weave a shambala bracelet. But in each of them the clasp is executed differently. After knitting two or three centimeters, working threads on the inside should be glued with "Moment" glue or nail polish. Superfluous - cut off.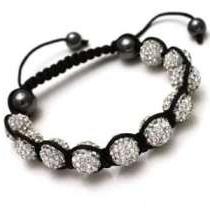 In conclusion, the threads that tighten the lock should be planted over the bead and tie knots to prevent cords from jumping out of the netting. After this operation, "Shambala" (bracelet), made by hand, is completed. It is easy to put on and pull up, you can adapt it for hands of different fullness.
Additional features
The simplicity of making a Shambala bracelet makes it very popular with jewelry. After all, this product can be made of beads and a cord of different types and colors. Additionally, the bracelet is decorated with pendants or jewelry.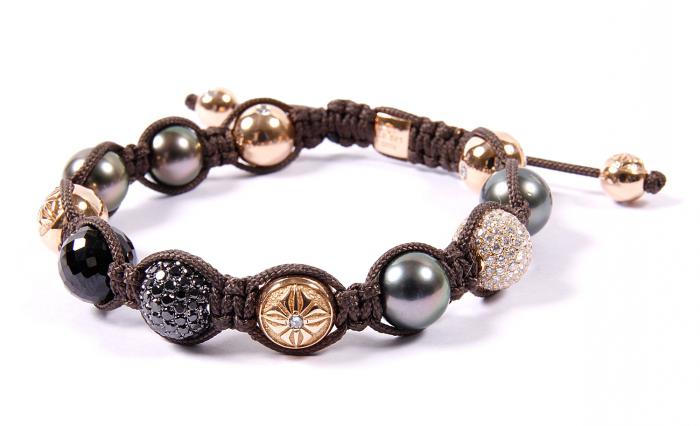 After learning how to weave a Shambala bracelet, it is used to decorate watches - the original bracelet will give them style. Like other works related to creativity, the result of weaving a bracelet depends largely on the availability of taste and abilities of a person. If you attach a little imagination, you can weave a variety of compositions. Samples of such products can be seen in photographs showing already finished products.
Despite the fact that the principle of making bracelets is one, they look like completely different jewelry.

Types of materials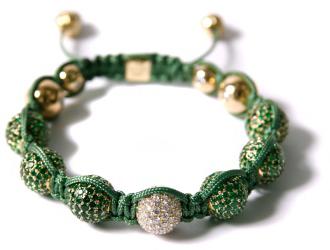 When creating a bracelet, you can use beads of different quality. It can be wooden, glass and natural stone beads, large beads. Beads are also made from polymer clay - these are very original and beautiful items that are varnished. The peculiar patterns and shapes give the bracelets originality.
Natural stones, if correctly selected by the sign of the zodiac or other signs, can become an amulet for someone who wears a Shambala bracelet. It will bring real health benefits and protect people.
Weaving a Shambala bracelet, more precisely, its result, depends on the quality of the material, for example, the cord. It should be thick and decorative. Silk cords are often used, but nylon and waxed ones can be used. The knots that will be knit look on these cords very clearly and beautifully. This is what the masters should strive for, who undertake to make a Shambala bracelet.
Related news
How to weave a bracelet Shambala Shambala Bracelet DIY image, picture, imagery