How to cook stuffed cabbage in French and Italian
Everyone knows how to cook stuffed cabbage. They often serve as a "magic wand" for many housewives, being both a meat dish and a side dish. In addition, for meat stuffing meat consumption is minimal, which is important in those cases when you accidentally found a piece of minced meat in the freezer and you do not know where to apply it. This dish is usually popular due to its excellent taste due to the successful combination of products. Although compared to him, braised cabbage with meatballs is basically the same as wrapped meat envelopes, but most of them will opt for the last dish. Want to surprise your loved ones? Then find out how to cook stuffed cabbage in other countries. We offer you recipes of French and Italian cuisines. Do not be surprised at the new ingredients from which cabbage rolls are made. Cooking unusual dishes will help diversify your diet with fresh flavors.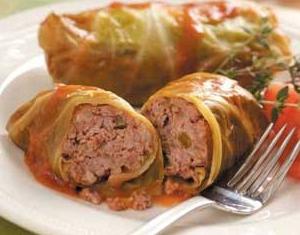 Products for french cabbage
- cabbage - one or two dense heads of cabbage;
- pork - 200 g;
- Beef - 100 g;
- two hard-boiled eggs;
- hard cheese - 60g;
- green salad (leaves) - 50g;
- two medium bulbs;
- One clove of garlic;
- white wine (dry) - 1 glass;
- Tomato paste - 1 tbsp. l;
- One glass of meat broth;
- salt;
- greens (celery, parsley);
- Bay leaf.
How to cook delicious cabbage rollsin French
Clean the cabbage head and, deeply cutting the stalk, put it in boiling water. Fork remove the top, soft from cooking, leaves, removing them in a colander. Cut with a sharp knife dense veins.
Mince meat, pork fat, boiled eggs, garlic. Onions, lettuce, greens, very finely chopped. Cheese need to grate on a coarse grater. You can optionally add a little raw, washed rice, but usually cabbage rolls in French are made without it. Mix mass, salt and pepper to taste.
Wrap each cabbage leaf in about a full tablespoon of minced meat, it depends on the size of the leaves.
So that wrapped cabbage rolls are better kept in shape and not unfolded when stewing, you can quickly fry them, turning them over, in vegetable oil. Do the work very carefully, because when you put wet meat envelopes on the hot oil, you can burn yourself with boiling splashes.
Fold the cabbage rolls in a deep frying pan or saucepan, pour the broth, mixed with tomato paste, wine and simmer, covered with a lid, for 35-40 minutes. For pre-fried envelopes, the time can be slightly reduced.
When serving, sprinkle with chopped greens.
How to cook cabbagein Italian
Everyone is accustomed to using minced meat as a filling for this dish. But, for example, in the Scandinavian countries it is popular to wrap mushrooms in cabbage. And in some areas close to the sea, make the original fish cabbage rolls. The fillings can be completely different. And how are cabbage rolls prepared in Italy? The main ingredients are cheese and wheat bread. Prepare the cabbage leaves in the usual way and proceed to the preparation of the filling. To do this, soak wheat bread (250 g) in warm milk (200 g) for 5 minutes. After squeezing it, add two raw eggs, 100-120 g of grated cheese, salt and pepper. Mixed mass can be filled with leaves. Fold the wrapped cabbage rolls in a saucepan and simmer for 10-15 minutes in sour cream sauce. Serve hot with gravy.
Related news
How to cook stuffed cabbage in French and Italian image, picture, imagery