How to cook curd cream for eclairs
There are many recipes for the classic French dessert - eclairs. Eclairs are light aircakes made from choux pastry. The classic filler is custard. However, others are used - sour cream, cheese, chocolate or butter.
Our article will be devoted to curd cream for eclairs. How to cook it yourself? Let's consider its step by step preparation, the technology of filling the cakes and the production of the eclairs themselves.
Curd cream for eclairs. Yogurt Recipe
Eclairs at home are prepared using the same technology as in large-scale production. Components for homemade eclairs with curd cream below.
Ingredients for cream:
one hundred and fifty grams of low-fat cottage cheese;
one hundred milliliters of drinking yogurt;
fifty grams of butter of average fat content;
thirty grams of powdered sugar.
Cooking method:
A prerequisite that must be respected is maintaining the room temperature of the products.
At the first stage, beat the curd with powdered sugar in any way convenient for you.
Next, pour the yogurt into the blended mixture and whisk again.
Oil is added at the last stage of the preparation of the cream. Beforehand, it is necessary to melt it a little or leave it for a couple of hours in the room so that it warms up well.
After adding the butter to the curd-yoghurt mass, all the ingredients are again well mixed.
The finished cream must be covered with a lid or cling film, send it for several hours in the refrigerator.
Cottage cheese cream with wine
This is a simple recipe for eclairs, but it should be borne in mind that it will not be suitable for children, since it includes white dry wine. Cooking based on eight servings.
So, we will need:
one glass of heavy cream;
half a cup of mascarpone cheese;
two tablespoons of white dry wine, you can use semi-sweet;
one hundred grams of low-fat cottage cheese;
a couple tablespoons of powdered sugar.
The process of making cheese cream for eclairs with a photo: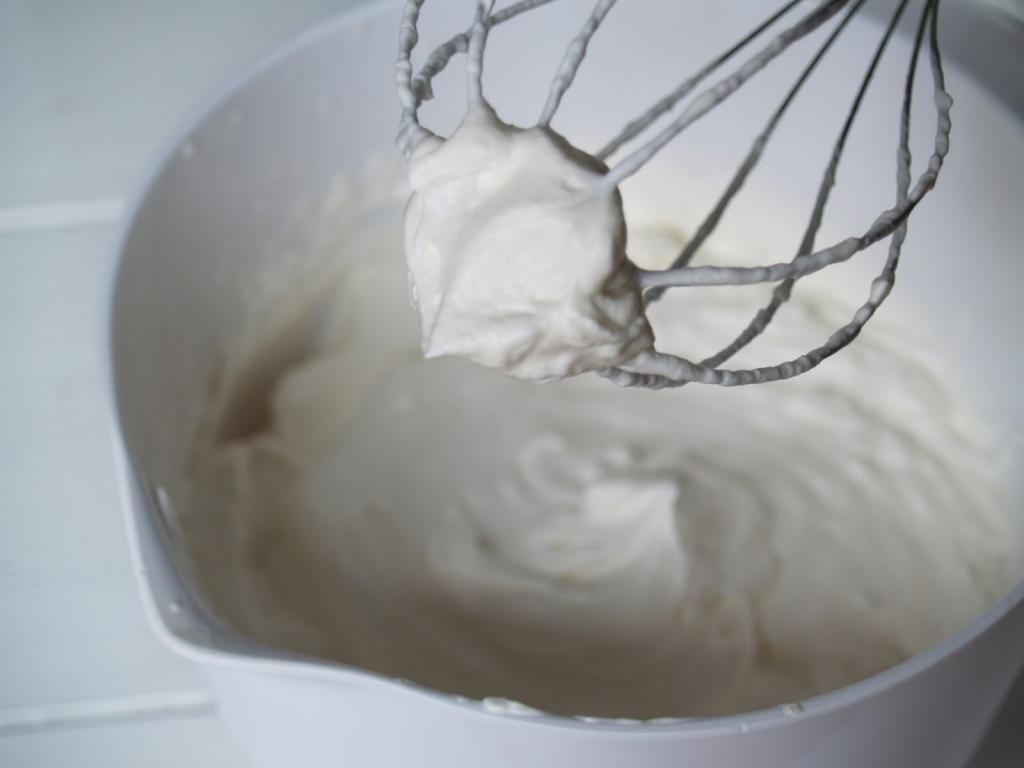 At the first stage we spread cottage cheese and mascarpone cheese into the container. These two ingredients are mixed to air mass.

The next step is to add cream and icing sugar to these two ingredients. All components are interrupted again.

At the last stage of cooking curd cream for eclairs add white wine. Now all the ingredients can be mixed with a spoon, without using a mixer or blender.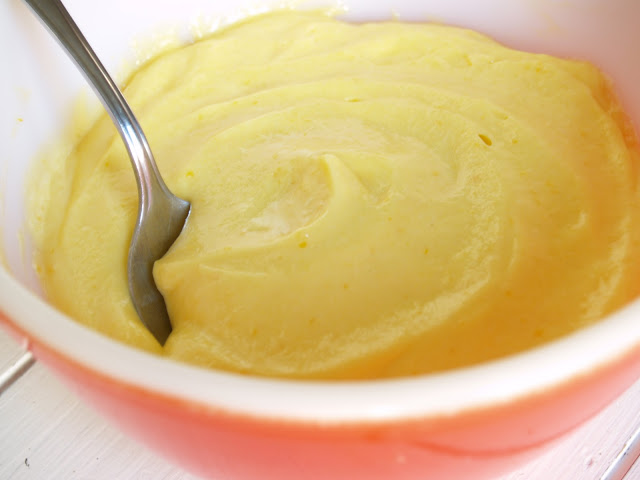 After we fill the already prepared and cut eclairs. Pour chocolate icing over the cakes and leave in the fridge until it hardens.
Curd cream for eclairs. Recipe with photos
At observance of technology of preparation the cream will turn out tasty and air, not conceding to classical custard.
Required Products:
two hundred grams of low-fat cottage cheese;
a glass of sugar;
two hundred milliliters of cream;
add vanilla sugar to taste to give the cream a pleasant aroma.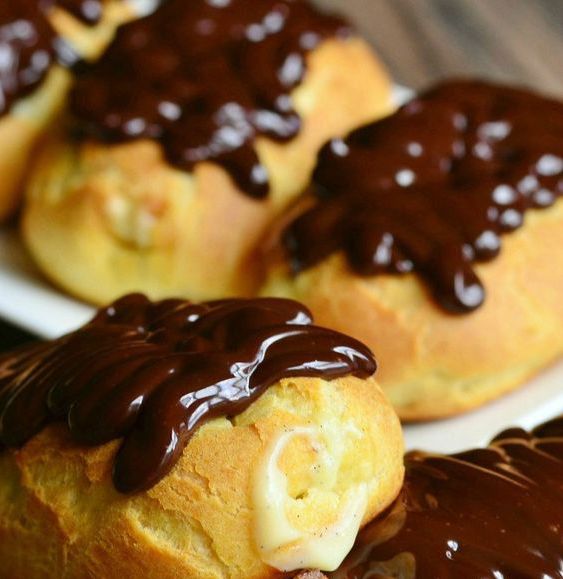 Cooking cream
Put the cottage cheese in a container, add sugar to it. All mix with a blender until complete grinding components. If instead of a blender you use a whisk or fork, then you risk leaving a grain of sugar in the consistency,which will weight the cream. Air mass in this case will not work. Sugar must be ground into icing sugar.
After you get a homogeneous mass, add cream and vanilla sugar to it. Again, all the ingredients are mixed. To make the cream more airy, use a mixer for whipping.
The right choux pastry for eclairs
We start cooking the most eclairs.
Ingredients needed to make eclairs:
one hundred grams of butter;
glass of water;
two hundred grams of wheat flour;
four chicken eggs;
some salt.
It is important that the eggs are at room temperature and not from the refrigerator.
Cooking steam bath. To do this, take two pans of different sizes, so that one fits in the other.
A larger volume pot on the third part is filled with water and set on fire.
In the second, pour a glass of water and put chopped butter. Do not forget the ingredients of salt. The smaller pot is placed in a large one.
Oil must be completely melted. During the whole process constantly stir the contents of the pan. When water and oil boil, add flour to them.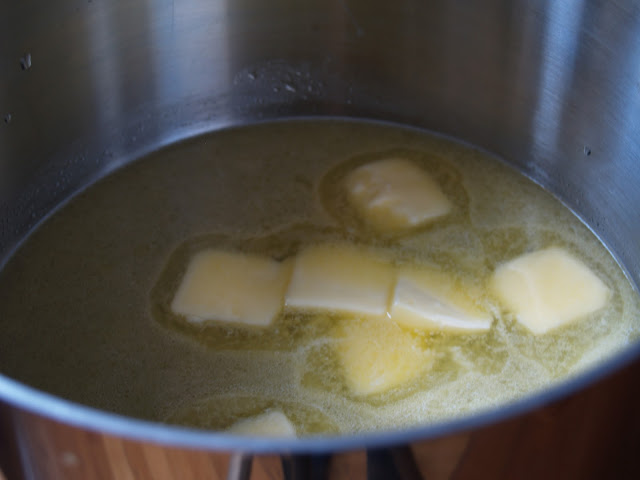 Preliminary it needs to be sifted, otherwise the dough may get clogged.
We introduce it, mixing well with oil and water so that there are no lumps. After we take out a smaller pot. In this case, do not stop stirring the contents of the pan for another three to five minutes.
At the next stage, we introduce eggs into the brewed mass. It is necessary to do this in turn. Each egg is introduced separately, after which the dough is well knead. This task is quite laborious, so if you are not sure that you have enough strength to knead the dough completely, use a mixer.
The finished dough should turn out by its consistency is not very thick, but not very liquid. You can check it with a spoon. The dough should be pulled behind it in a thick stream, while bleeding a little while giving it shape.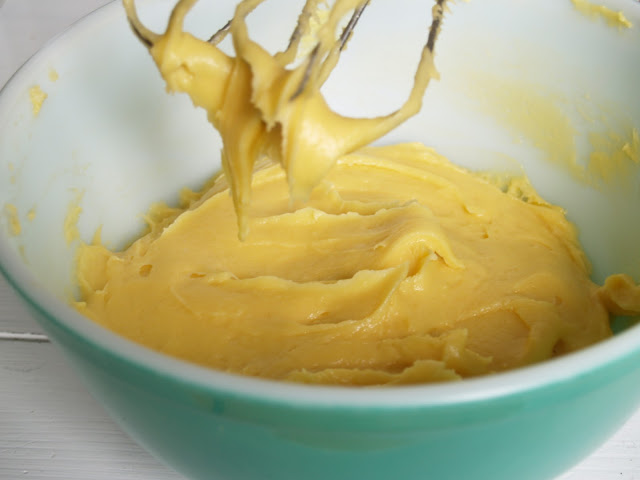 In the next stage of making eclairs, you need to use a pastry bag, parchment paper and a baking sheet.
Using a spoon, spread the dough into a pastry bag. Squeeze the cream with a stick from five to seven centimeters in length onto the laid baking sheet with paper.
It should be borne in mind that during baking the dough will increase several times, so the sticks must be laid out in such a way that space remains between them.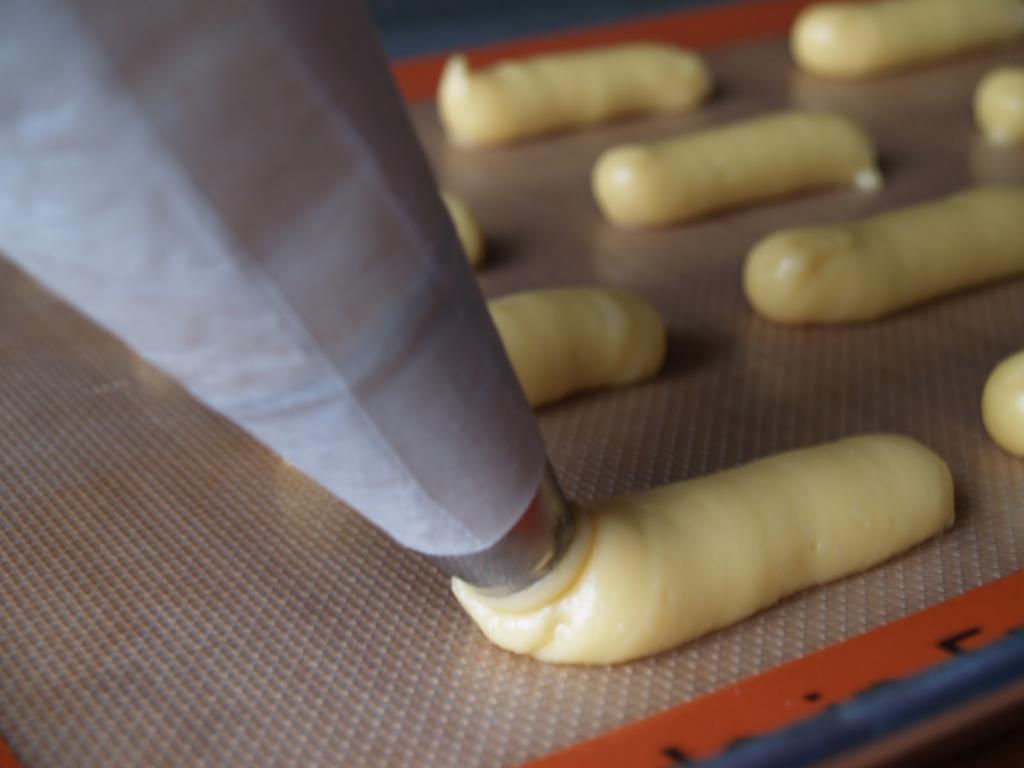 The oven is heated to two hundred degrees, we send our eclairs.
We bake 10 minutes, then reduce the temperature to 180 ° C and bake another 20 minutes. It is important not to open the oven in any case, otherwise the cakes "will fall".
About the readiness of eclairs says their golden crust.
Before filling them with cream, it is necessary to cool the products, otherwise the cream will leak out.
Fill eclairs with cream
There are two ways to do this:
Cut the eclair, with a pastry bag or spoon, lay out the cream in them and combine both halves.
On the one hand of the eclair we make a hole, with the help of a pastry bag we press in the cream. This method helps to preserve the integrity of the cake.
Now you know how to make your own cream for eclairs.
Related news
How to cook curd cream for eclairs image, picture, imagery